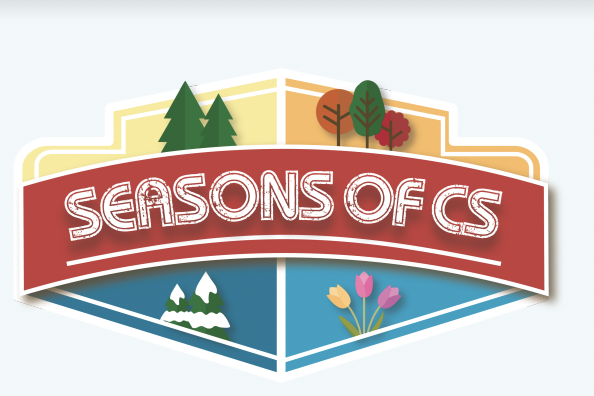 Earlier this year, a $5 million Educator Workforce Grant (EWIG) in computer science (CS) was awarded to UCLA and its CSforCA coalition, along with CDE Foundation and Sacramento County Office of Education to expand the Summer of CS professional learning pilot into a more robust Seasons of CS professional learning program across California's statewide system of support.
Expanding on Summer of CS, Seasons of CS will work to further build systematic capacity for equitable, scalable, and sustainable CS education in California. The establishment of the Seasons of CS program marks the expansion of CS professional development opportunities across all seasons of the year in addition to summer, and just as importantly, expands this programming to the entire state through the California Systems of Support.
Seasons of CS is a research-backed professional learning model for California teams of K12 teachers, school leaders and school counselors, to increase teaching and learning opportunities for low-income students, students of color, and English learners. The project aims to increase access, equity and engagement in high-quality and culturally responsive CS instruction and curricula that is aligned to the California Computer Science Content Standards and the Quality Professional Learning Standards.
This year-long professional development program is made possible by support from the Educator Workforce Investment Grant (EWIG) of the California Department of Education. Section 84 of the Education Omnibus Trailer Bill (Senate Bill 75) for the 2019–20 California State Budget established the EWIG program to support professional learning opportunities for teachers and paraprofessionals across the state. This year, the FY 22-23 Governor's budget included a significant increase to $15 million for EWIG, up from last year's $5 million grant. This funding catalyzed the pilot-to-program transformation that will bring CS professional development to more teachers all across our state—and with it, will enable more students than ever to learn computer science.
In a recent survey of 3,700 PreK-12 computer science teachers conducted by CSTA and the Kapor Center, over 1/4 of teachers felt limited by their own subject matter expertise and expressed the need for low-cost computer science professional learning and collaboration opportunities. Educators expressed that inequitable access to early computing exposure, in combination with a lack of support to pursue computing, often restricts and deters students historically excluded from the field. Computer Science for California (CSforCA), a multi-stakeholder coalition, has been working to meet this need by organizing equity-focused professional learning opportunities for educators.
That's why we're excited to share that the newly-launched Seasons of CS will:
Build Capacity of Education Leaders in Statewide Systems of Support: Representatives from County Offices of Education (COEs) in the 7 regions of the California Statewide System of Support (see map with contact names/regions below) will provide ongoing support to schools and districts, especially those with limited capacity, such as rural communities.
Organize and Deliver Summer of CS – a Week of Professional Learning for 700 Teachers, Schools Leaders, and Counselors:
Regional county offices will host a regional Summer of CS week of professional learning for educators, implementing differentiated instructional strategies and resources in CS education to engage Black and Brown, female, rural, and low-income students.
Connect Educators with Coaching and Ongoing Professional Learning Communities:
Professional learning communities will provide ongoing support for educators throughout the year. Coaches will support the professional learning communities to facilitate intermittent cycles of feedback and reflection to improve instructional practice.
Funding has been awarded through the Educator Workforce Investment Grant to expand computer science teaching and learning opportunities across the statewide System of Support. The following County Offices of Education will assist in the delivery of the Seasons of CS in their respective regions (offices in bold are the lead applicants, followed by the primary contact):
1. Far North Partnership - Del Norte County Office of Education (Rae Fearing) & Butte County Office of Education
2. North Bay/North Coast Collaborative - Mendocino County Office of Education (Rebecca Bailey)
3. Capital Central Foothill Area - San Joaquin County Office of Education (Stephen Callahan), Placer County Office of Education, & Sacramento County Office of Education
4. Bay Area Consortium for Student Success - San Mateo County Office of Education (Sarah Watanabe), Contra Costa County Office of Education, & Santa Clara County Office of Education
5. Mid-State Collaborative - Stanislaus County Office of Education (Rudy Escobar) & Monterey County Office of Education
6. Valley to Coast Collaborative - Santa Barbara County Education Office (Lauren Aranguren)
7. Southern California System of Support - San Bernardino County Superintendent of Schools (Sonal Patel), Riverside County Office of Education, San Diego County Office of Education, & Orange County Office of Education
Read more about the Educator Workforce Investment Grant.
---
References:
California Department of Education. (2021). Computer Science Education: Computer Science Content Standards.
California Department of Education. (2021). Computer Science Strategic Implementation Plan.
CSforCA. (2020). What Is Computational Thinking and What Does It Have To Do With K-12 Education?
CSforCA. (2021). Making Computer Science Count in California
Darling-Hammond, L. (2004). Inequality and the right to learn: Access to qualified teachers in California's public schools. Teachers College Record, 106(10), 1936-1966.
Darling-Hammond, L., Hyler, M. E., Gardner, M. (2017). Effective Teacher Professional Development. Palo Alto, CA: Learning Policy Institute.
Darling-Hammond, L., & Richardson, N. (2009). Research review/teacher learning: What matters. Educational leadership, 66(5), 46-53.
Flapan, J., Hadad, R. Shorall, C., Twarek, B. (2020). Computer Science Equity Guide Version 2. Los Angeles, California: UCLA.
Flapan, J., Ryoo, J.J., Hadad, R. and Knudson, J., 2021. Preparing School Leaders to Advance Equity in Computer Science Education. Journal of Computer Science Integration, 4(1), p.2. DOI: http://doi.org/10.26716/jcsi.2021.10.8.33
Knudson, J., Handjojo, C., & Sunde, A. (2021). California computer science education policy: Contributing factors to success and opportunities for further progress. Arlington, VA: American Institutes for Research.
Koshy, S., Hinton, L., Cruz Novohatski, L., Scott, A., Flapan, J., 2021. The California Computer Science Access Report, Kapor Center, Oakland, CA.
Margolis, J., Estrella, E., Goode, G., Holme, J. J., & Nao, K. (2017). Stuck in the shallow end: Race, education, and computing.
McLaughlin, M. W., & Talbert, J. E. (2001). Professional communities and the work of high school teaching. University of Chicago Press.
Oakes, J., & Rogers, J. (2006). Learning power: Organizing for education and justice. Teachers College Press.
Ryoo, J., Goode, J., & Margolis, J. (2016): It takes a village: supporting inquiry- and equity-oriented computer science pedagogy through a professional learning community, Computer Science Education, DOI: 10.1080/08993408.2015.1130952.
Scott, A., Koshy, S., Rao, M., Hinton, L., Flapan, J., Martin, A., McAlear. F. 2019. Computer Science in California's Schools: An Analysis of Access, Enrollment, and Equity, Kapor Center, Oakland, CA.