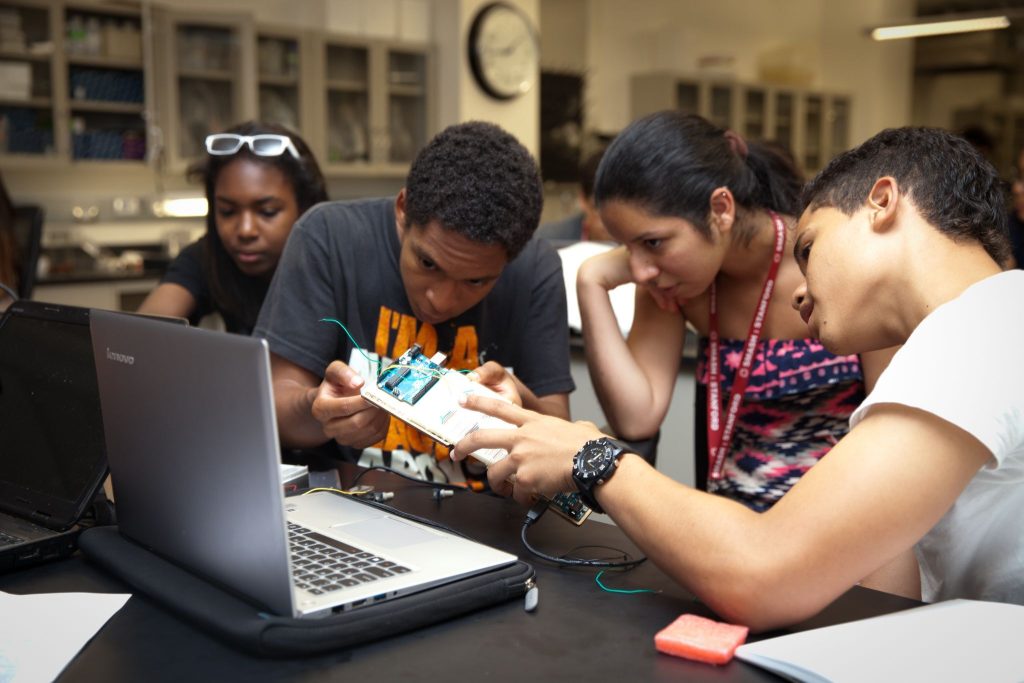 After several years of school on Zoom, watching YouTube how-to videos about anything and everything, and "talking" via Snapchat, it's tempting to think that students are already equipped for our technological future. But technology innovations like artificial intelligence and ChatGPT are wreaking havoc on our education system.
As education headlines are dominated by calls to "catch up" from the pandemic and build a more equitable schooling system, it's understandable why we'd want every dollar of educational investments going into reading, math and other basic skills. But California is facing a more fundamental problem: Because we haven't yet reached equitable access to high-quality instruction across the curriculum, we have to invest in our future, without exacerbating existing inequalities.
As educators and policymakers consider ways to increase student achievement, it's important that we ensure equity in expanding teaching and learning opportunities. In our increasingly digital world, computer science is a necessary building block that enables students to develop foundational skills that apply across subjects, from computational thinking and interdisciplinary problem-solving, to collaboration and digital citizenship. Importantly, computer science also plays a unique role in supporting learning and student engagement when it is integrated into more traditional subjects like math, science, arts and the humanities — in large part because technology is the currency for learning among our youth, and critical to success in college, careers and life.
The pandemic propelled a nearly overnight transformation of our education system and the rapid proliferation of remote learning. Consequently, students are online more than ever before. It is critical to help young people understand and demystify computing technology as well as consider its ethics and impacts — like biased algorithms that lead to unfair policies and practices, the entrance of AI into classrooms and workplaces, and the impacts of social media on self-image and mental health. Like math and reading, a computer science education is foundational to developing a well-informed, well-equipped citizenry in today's world.
Moreover, computer science helps prepare students for college and opens the door to some of the highest-paying and fastest-growing careers. The Bureau of Labor Statistics projects that employment in computer and information technology occupations will increase 13% from 2020 to 2030 — equivalent to about 667,600 new jobs —which is faster than the average growth for all occupations. And, the median annual salary for computer and information technology occupations was $91,250 in May 2020, higher than the median annual wage for all occupations of $41,950. California is a leader in the technological revolution, leading the nation in tech employment (1.88 million tech workers) and the economic impact of the tech sector ($520 billion), and home to five of the top 10 highest-grossing global tech companies.
Failing to provide our students the opportunity to learn computer science will only increase existing disparities in student success and representation in top-tier industries.
Despite the importance of equitable access to computer science education, only 39% of California high schools offer computer science courses, and only 5% of students are actually enrolled in them. (The most recent publicly available data from the California Department of Education is from 2018-19.)
Offering all California students a computer science education — especially girls, low-income students and students of color — will open the door to economic opportunities and high-paying jobs from finance to farming, healthcare or entertainment. This will also ensure California has the skilled and diverse technological workforce needed to maintain competitiveness and drive innovation in our state.
The California Legislature is considering two important computer science bills: Assembly Bill 1054 (Berman), a bill that will require all public high schools to provide at least one computer science course; and Assembly Bill 1251 (Rivas) that will expand the pool of teachers to teach it. These policies will be integral in bolstering student achievement with relevant future preparation by equipping our students for their technological future. This means investing in computer science education and ensuring all students — including low-income students and students of color — have access to this foundational knowledge for their future.
Providing access to computer science in all high schools will help our students catch up while moving ahead. Computer science education can help us do both.
Read the full article in EdSource.