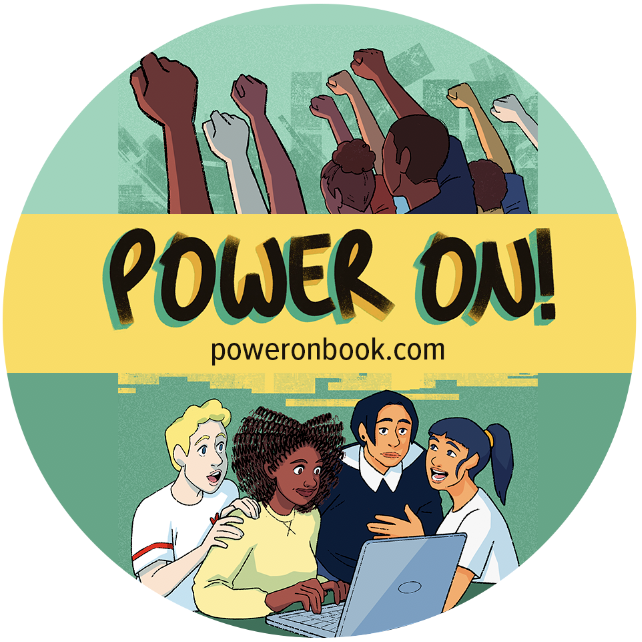 CSforCA members Jean Ryoo, an educational researcher and writer, and Jane Margolis, a UCLA educational researcher and author, recently published Power On!, a graphic novel about CS education equity. The novel follows a diverse group of teenage friends who learn how computing can be personally and politically empowering and why all students need access to CS education. Read on to learn about their inspiration, their choice of medium, and why computer science education equity is at the heart of their work.
What inspired you to write Power On!?
Our work with students and teachers really inspired this book! Educational research is usually written for a narrow audience of academic researchers. We wanted to make sure that the important voices, perspectives, and experiences of the youth and educators we collaborate with — whose ideas have been shared in Stuck in the Shallow End (MIT Press) and various journal articles we have written — actually reach a larger audience. And, we wanted to help create a resource for CS classrooms and out-of-school settings to help spark necessary discussions about technology in today's world.
What are you hoping readers take away from Power On!?
Our goal is to inspire productive dialogue around key topics related to underrepresentation in computing and ethical issues in tech that are raised in the book. These topics are currently missing in most in-school and out-of-school learning contexts. More specifically, we hope that youth get engaged with a critical eye and voice about some of the most important questions about technology today, such as: Is there racial bias in algorithms? What are algorithms? Why does underrepresentation of students of color and females really matter? What can be done to change this? Who are some of the inspiring heroes in CS who themselves are people of color and females? What does it entail to have technology for social good and not harm? For educators, we hoped that the book would help them facilitate conversations on some of these important topics — topics that are not commonly discussed in computer science education, unfortunately. We see the need for this to change.
Can you describe the inspiration for choosing the graphic novel as your medium?
Graphic novels can be both a beautiful and entertaining way to communicate not only important ideas, but also unique voices, emotions, visions, and movements. They intrigue people of all ages with their imagery and dialogue, they create opportunities to make abstract ideas come to life through character interactions and dialogue, and they are often more accessible to a wider range of readers and reading appetites. We have read many inspirational stories through graphic novel formats –– such as March and RBG –– and it seemed like the perfect way to translate our research findings to support conversations about pressing issues in computing for either classrooms or out-of-school program spaces.
Who do you hope will read this and in what context?
We hope the book will be used in both classrooms and out-of-school programs with middle and high school-aged youth; in teacher professional development programs as a conversation starter for computer science educators who care about ensuring that computer science is truly equitable and relevant to students' lives; we hope that other community members (e.g., parents, aunts/uncles, caretakers, etc.) will read the book and be inspired to advocate for their children's access to quality computer science education; finally, we hope that tech company Diversity, Equity, and Inclusion teams will add the graphic novel to their book clubs.
Are there any resources for teachers to facilitate conversations around the themes of the book?
Yes! We are collaborating with Computer Science Teachers Association Equity Fellows to develop educator resources for the graphic novel. The resources include discussion questions, lesson plans, additional readings, videos, and tools, etc. These will be available for free online on our website: poweronbook.com. Collaborating with these educators has been inspiring to us and we are so grateful for their engagement with Power On!
Why is CS education equity important to you?
CS educational equity is important to us because in today's world everything is impacted by computing. The way we learn, determine fact from fiction, get our news, develop our interests, the jobs we can apply for — all are impacted by computing. Today, almost every career from the arts, medicine, environmental science to mechanics is connected to computing. Further, one's full participation in our democracy is greatly enhanced by understanding computer science.
Unfortunately, CS education has been and continues to be a window into how inequality is perpetuated in our education system. In our research in Stuck in the Shallow End: Education, Race, and Computing (MIT Press 2008, 2017), we found disparities in the quality of learning opportunities that fell along race, gender, and socioeconomic lines. Schools with high numbers of students of color in low-income areas were offered fewer courses, which were often only focused on basic rudimentary skills, like keyboarding and internet searching, instead of the computational thinking that is at the heart of CS. We found biased belief systems that associated white and Asian males as the students with "innate" interest and capacity, while others were assumed to be "just not interested." But, that was false. Actually, it was the students with "preparatory privilege" — resources at home such as computers, financial support to go to computer camps or buy robotic kits, etc. — who were the ones flocking to CS classes early on, whereas others felt that they just didn't belong. And, then there were the educational policies, such as tracking, lack of funding for teacher professional development, etc., that clearly compounded inequalities, and played a role in determining which students in our study took computer science and which did not.
In today's world, knowing CS is part of knowing how our world works. So, CS education must be available and made relevant and engaging for all students, and as our current youth collaborators in our student voice research have emphasized: when CS education connects to the larger sociopolitical and ethical issues students care about in their real lives, their engagement with computing increases. We need to create more opportunities for youth to find connection with computing education for the benefit of all our communities.
What is your vision for CS education in California?
First, CS education must be in every school, with teachers who have been able to attend professional development opportunities that examine the importance of the equity issues we discuss above. And, the demographics of CS classes must reflect the demographics of the schools at which they're taught. All perspectives and life experiences are necessary in this field. We hope for California CS education to be inquiry based, filled with problem solving and assignments that are relevant to the issues that students feel passionate about.
Additionally, CS education must prepare students with critical thinking skills to be able to understand the role that technology and computing plays in our society today — the issue of ethics in technological innovation; how technology has been found to cause harm as well as social good; and how biases get programmed into technology, etc. CS education should be meaningful, fun, relevant, and welcoming. Students should feel that they belong, their perspectives are valued, and that they have agency.
It is for these reasons that we wrote the graphic novel Power On!. We wanted to challenge the belief that computer science education is "neutral" and "apolitical" and that CS classes are not places for these kinds of discussions to take place.Instead, all students need to be involved. If we don't include these larger issues into our re-visioning of CS education, future technologists (both users and creators) will not be the champions for equity that we all need them to be.
Anything else you'd like to share with us?
We are so grateful for the enthusiastic welcome we have received from the CS education community toward our graphic novel; educators recognize that there is a gap in which students are being taught about CS and they see that our graphic novel will fill it.
We would like to share the words of a CS student we are working with on why she thought issues of equity were important to consider in CS education:
"CS students simply want to talk more about social issues in their CS classes, so I think the main reason to have these discussions is that students want to have them. These topics are of value to them. Many students are aware of and connected to social justice efforts, and being in a scientific major doesn't change the fact that they're looking for CS to connect with the real world and issues that they care about. There's also the point of developing the critical literacies of these students. Purely technical education doesn't do that. So, the social and ethical aspect is always important if we're saying that we're bringing up the next generation of technologists, policymakers, etc." (Takeria Blunt).
We couldn't have said it better ourselves!
Whether you're a student, parent, educator, or interested community member, order your copy of Power On! today — a source of inspiration in our continued fight for CS education equity for all students across our state.