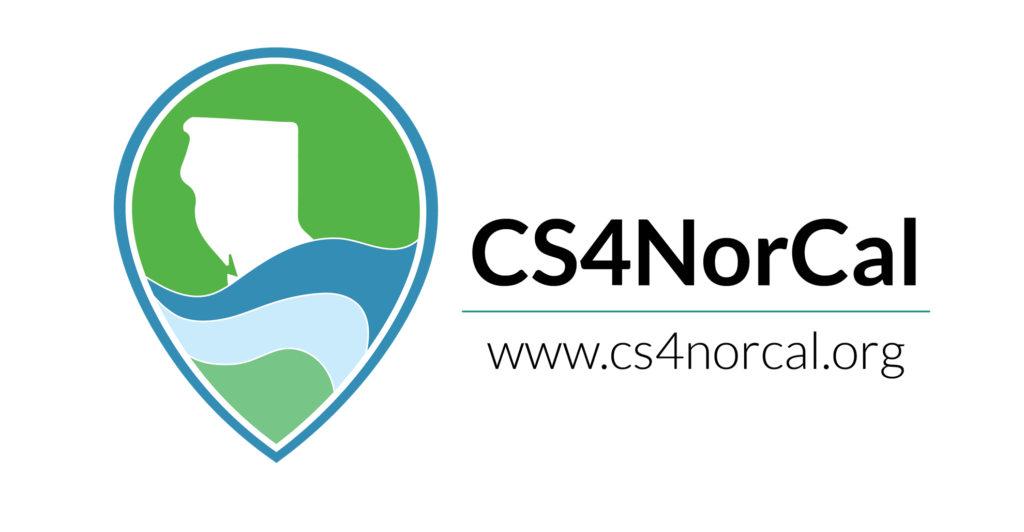 California's Small School District Association (SSDA) represents a staggering two-thirds of school districts across our state. We spoke with Tim Taylor, SSDA's Executive Director, and Kathy Hamilton, SSDA's CS4NorCal Project Director, about the CS4NorCal project and its mission to prepare rural educators to teach computer science (CS) and create opportunities for students to learn and apply CS skills across grades and subject matter.
Read on to learn about CS4NorCal's work and initiatives, and why they chose to focus on rural and small schools.
How did you get involved in CS education?
Tim Taylor: My first teaching job was Business Education that included keyboarding and introduction to computers at a high school in 1987. Having grown up in the Silicon Valley, CS was part of our culture and heritage. It was important to me as an educational leader to work with state leaders to infuse and adopt CS for all in California.
Why is CS education equity important to you?
Kathy Hamilton: CS has become a new literacy that will be essential for our youth to learn as they enter post-secondary education and the world of work. CS and STEM-CS sectors offer high-demand, high-wage careers. CS is, indeed, "everywhere." Learning CS and computational thinking will benefit all children no matter what they pursue as adults.
Can you tell us about the work that CS4NorCal does?
Kathy: The purpose of CS4NorCal is to build regional capacity based in the county office of education to support CS professional learning and pathway implementation in small and rural school districts and schools. The project is a pathway approach that focuses on preparing rural educators to teach computer science and creating opportunities for students to learn and apply CS skills across grades and subject matter. Our model is respectful of and adaptive to the local context, and promotes an innovative field-based approach to providing students in high-need rural areas with a progressive continuum of exposure to STEM-CS instruction and experiences.
What are some CS4NorCal initiatives currently underway?
Kathy: Currently, we are providing 2 years of intensive, year-round professional learning to 58 teachers from 34 schools in Glenn, Lassen, Modoc, Plumas, Shasta, and Siskiyou counties. Participating schools range in size from an enrollment of 26 to over 1,500, although more than half serve fewer than 300 students. Participating teachers serve students from K-12 and are integrating CS in a variety of ways, most often by integrating it into another subject. Teachers from all of these schools also are invited to receive the professional learning services starting in the summer of 2023.
Our model starts with the Summer of CS common to CSforCA, as well as the year of just-in-time curriculum training associated with the Summer of CS curriculum providers. In addition to that professional learning foundation, we offer two math and science integration workshops during the academic year and a series of four workshops focused on project-based learning and college- and career-preparation. All services are provided at no cost to participating COEs, districts, schools and teachers, and teachers receive a stipend for their participation. Schools also receive access to no-cost curriculum.
Why is it so important to provide students in small and rural schools with a CS education?
Kathy: Because:
We need to close an existing digital divide between the small rurals and the larger, more accessible districts around our state.
We need to assure that students in rural communities have equal access to the high-demand, high-wage jobs available.
We need to ensure that rural communities have workforce and economic development opportunities that can help them thrive.
The bottom line: It is essential to the economic vitality of our state that all children have equitable access to high-quality computer science education.
What advice would you give a teacher looking to get into CS?
Tim: All teachers need to get into CS. When I speak to a group of educators about CS, I always ask them how many of you used a device this morning? Every hand goes up. Then why would you not provide students with the necessary tools to learn CS so they can be productive and responsible citizens of the future. They usually all nod their heads in agreement.
At CSforCA, we believe all students in California need and deserve access to the computer science education they will need to succeed in their future, but data shows that this is not the case. Students of color, girls, and students in low-income and rural communities do not have access to the same high-quality computer science education as their peers. For a closer look at what CS education access looks like in your community and across our state, check out our CS Equity Dashboard.